What can we do for you?
Experience the power of visual communication with our wide range of print products. From stickers to vehicle wraps, we've got you covered.
We can take any image and stick it to almost anything, from stickers, to signs, artwork, banners, window perf, decals and vehicle wraps we print it all. And we can do it on just about any material. We do everything from print, to design, to install but what we really specialize in is creating great advertising for our customers using our print products.
We stay true to our customers vision and we are dedicated to providing design and product solutions that improve and help businesses grow. We never stop learning and always strive to improve our processes and products so we can offer you the very best.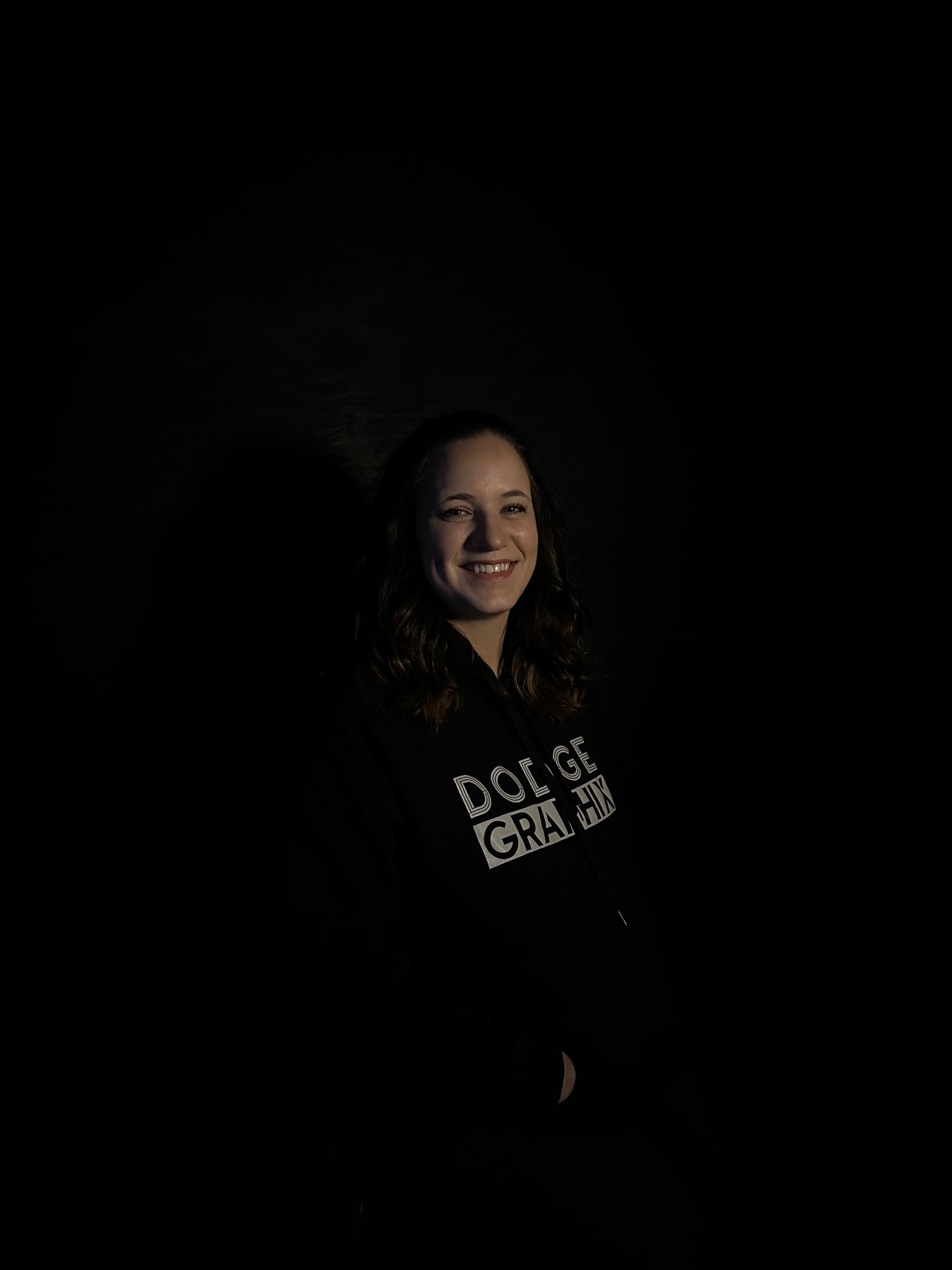 The History
With a Bachelor's degree in Graphic Design, Fine Arts, and Business from The Creative Center in Omaha, NE, Maddie Lind entered the design industry with years of experience. In 2017, she acquired Creative Signs & Graphics in Fort Dodge, IA, where she had previously worked under the old owners for 5 years. Maddie then transformed the business into Dodge Graphix with a fresh image and name. She has furthered her skills with advanced training under Justin Pate and remains dedicated to continuous growth within the industry and community.
What do you do at Dodge Graphix?
FAQs
How do I get started?

It's simple - reach out! Once you let us know what you are looking for we can gather the information we need from you to provide a proof and quote for your custom project. Typically we need to know a few things, how fast you need it, dimensions, and any information or images you want to include. Large or small projects, we do it all!

You can start the process by phone, email, or in person.

Phone - 515-955-5505

Email - info@dodgegraphix.com

Office - 429 1st Avenue South, Fort Dodge IA 50501
How long does the process take?

Depending on scheduling, stock availability, complexity and size, a sign could be produced the same day or after a couple of days. We offer rush services. For more moderate / large scale signage projects, we like to allow 2-4 weeks. The larger the project the longer the time scale. We will provide likely production times with all our proposals.

Vehicle wraps and vehicles are scheduled once the artwork and pricing has been approved.
How much does a sign or wrap cost?

It just depends on the type of sign or vehicle coverage you need. It's difficult to give an accurate cost until the design has been finalised. Lucky for you, we provide free quotes! We can give you a couple of pricing options from simple to complex so you can see your options and choose what best fits your budget needs.
Do you save my artwork or invoices?

Yes! We save everything on file for you for future orders, including previous orders so we can match sizes, colors, and materials.
Do you offer any discounts?

Sometimes you only need one sign, and sometimes you need more. We don't require minimum orders, and customers receive price breaks when ordering higher quantities (note that quantity discounts only apply to orders of the exact same size, material, options, and design). This goes for fleet vehicle graphics as well. We also offer school discounts – please contact customer service for more information. In addition, by signing up for our email or text lists, you gain access to our sales and promotions; we periodically send out discounts up to 20% for our subscribers.
Can I cancel my order?

Cancelling your order must within an hour of placing the order. Because we automatically put approved orders into production, all orders immediately go into our production process. Please contact us immediately after the order is placed if you wish to cancel your order. We cannot guarantee that your order can be cancelled due to the custom nature of each product.
Are state taxes charged?

Yes, you will be charged sales tax based on the state which you ordered or are shipping to. Two things you can't avoid: death and taxes. We can't avoid 'em either.
What do I do if my organization is tax exempt?

You can submit your tax-exempt info by emailing customer service and provide your exemption file and indicate your state.